Wed, August 19, 2015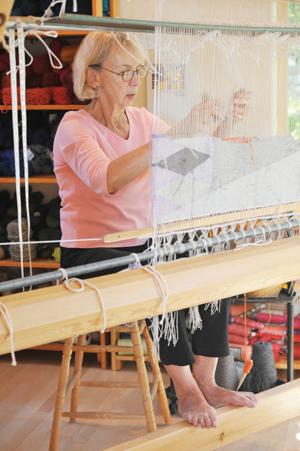 From the Idaho Mountain Express by Julie Bramowitz
With its soaring, steepled ceiling and streams of late-afternoon sunlight casting shadows on the floor, weaver Stefanie Dash Marvel's Hailey studio possesses the tranquil sanctity of a chapel. A Swedish-manufactured Glimåkra loom occupies one corner of the space, its intricate anatomy of wheels and bars as awe-inspiring as a church organ. And Marvel, soft-spoken and barefoot as she tiptoes through her second-story aerie, has the quiet grace of an ecclesiastic when she sits down to work on a Navajo-style tapestry.
Marvel's solemnity when speaking about her craft belies a sly sense of humor and a colorful life that began as the daughter of two freethinking artists. Her father was a painter and arts educator; her mother, a fashion designer and set designer for Off-Broadway theater. In college, Marvel took a class at the Art Institute of Chicago, which led her to the Penland School of Crafts in North Carolina, where she mastered her minimalist, nature-inspired style. Forty-five years ago, she taught workshops in Stanley and later opened a storefront in the valley.
Working on the Glimåkra, Marvel uses her fingers and a metal fork to thread wool or linen—the warp—through the supporting strings, or weft. In recent years, Marvel has begun to paint acrylic designs on her tapestries; the papers she lays underneath capture the excess paint, which forms abstract patterns, around which she draws minute geometries with a metallic pen.
What drew Marvel to weaving, she said, is that she likes "the building of color into a structure." She's especially enamored with textiles' interplay with light and movement. "When there's a breeze," she said, "the pieces have a different kind of life to them."
More:
Read the rest of the Idaho Mountain Express artists article,
Visit StefanieDashMarvel.com to learn more about Stefanie, and
Go to the Wood River Valley Studio Tour this weekend!
What: Third annual Wood River Valley Studio Tour
When: Saturday, Aug. 22, to Sunday, Aug. 23, 10 a.m. to 5 p.m.
Where: Locations throughout the Wood River Valley
Cost: Free
For a detailed map of artists' studios, go to wrvstudiotour.org.